Cornell Collection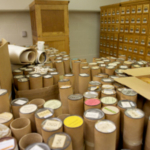 The Robert Trent Jones Collection, documents, drawings, letters, and pictures spanning 70 years of his career, has been donated to the Cornell University Library's Media and Digital Collections. The Library will offer scholars access to 70 years' worth of the collected plans and papers of Robert Trent Jones, who trained at Cornell to become one of the world's leading golf course designers.
The collection was donated to Cornell in April 2009 by Jones' sons, Rees and Robert Jr., also golf course designers. The Robert Trent Jones Society will be working with the Cornell Library to assist in the organization of the records and with funding for the process.
"He is certainly a Cornell icon," University Archivist Elaine Engst said. "During his lifetime, when he was approached by another university about donating his papers, he had his lawyer write a letter saying, 'It is my intention to donate my collection to Cornell.'"
The collection covers Jones' entire career, from 1930 through the 1990s. His voluminous office records include personal correspondence with Arnold Palmer, Ben Hogan, Sam Snead, Bobby Jones (no relation) and other legends of the game, as well as captains of industry and politicians; sketches, photographs and slides, contracts, account files and other financial records documenting all of the courses Jones designed.
An online guide to the complete and vast contents of the Robert Trent Jones Collection from 1924-2003 can be found at: rmc.library.cornell.edu/EAD/htmldocs/RMM06855.html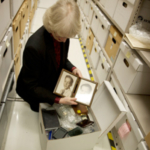 Materials include correspondence, personal material, business records, photographs, sketches and golf course plans for several hundred of his courses. Use Ctl F to search the data base.
For those interested in digitized reproductions of particular items in the RTJ Collection, go to: rmc.library.cornell.edu/find/reproductions.html
If assistance with the RTJ Collection is needed, you may contact Cornell reference librarians at rareref@cornell.edu. This Collection is available for pubic research.