2016 Annual Meeting
The Dunes Golf and Beach Club in Myrtle Beach, South Carolina hosted the 12th Annual Meeting of the Robert Trent Jones Society, September 23rd – 25th. Originally developed and constructed in 1948 the course has been a fixture in the Golf Digest Top 100 and has hosted at least eleven major amateur and professional tournaments over that time. We were most lucky to have fitted into a window of weather opportunity as a tropical storm came through a week before the meeting and Hurricane Carl toured the area just a week after the meeting, leaving the course and facilities with a wealth of water.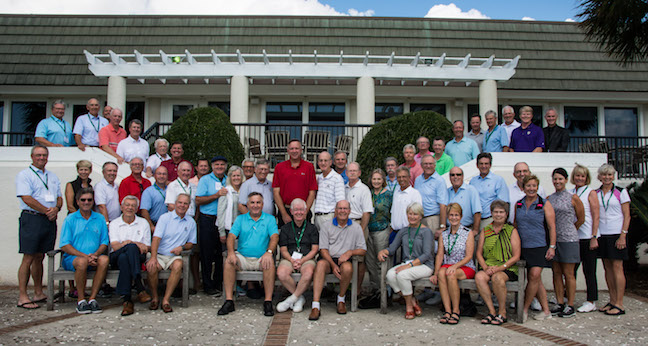 Every year the annual meeting is highlighted by the Historian Session on the morning of the second day and a special Keynote Speaker for the dinner banquet that night. This year's Historian program was as strong as any previous year as The Dunes presented a panel discussion on their history and the various projects they have taken on over the years. Participating on the panel were Jack Bonner, a long time member of The Dunes, Steve Weisser, Assistant to Rees Jones, Steve Hamilton, Dunes Greens Superintendent, and Cabell Robinson, the long time head of RTJ's European Operations. The discussion was very informative and gave us all a great picture of The Dunes and how it came to be.
Following the panel discussion we heard from Jim Hansen, author of the RTJ biography "A Difficult Par". Mr. Hansen covered the adventure of writing the book and the wide acceptance of the work as it came close to making many best seller lists. "A Difficult Par" has won the USGA award for book of the year
After a fine lunch golf was the order of the day and we weren't disappointed. The Dunes course lived up to its reputation and was praised by many of the players as being in as good a condition as any course they play. The dinner banquet that night was highlighted by a unique "fireside chat" between host Joe Passov and Rees Jones. Joe had a series of questions he posed to Rees about growing up as a son of Robert Trent Jones, his career in golf architecture, and his involvement over time with The Dunes. The discussion was enjoyed by all and put a nice finish on evening.
The second round on Sunday morning was an early shotgun, followed by lunch and the awards presentation. Taking advantage of local knowledge The Dunes team came away with Robert Trent Jones trophy. We look forward to next year for the Thirteenth Annual Meeting at Turtle Bay Yacht & Country Club in Killen, Alabama. The meeting will be September 29th through October 1st.
Bob Giere
President
Robert Trent Jones Society